In year 2019 one of the projects I launched was PronounceMe. It's a service which automatically generates videos with pronunciation of the English words and publishes them on YouTube. For more details about the hypothesis and technical implementation check out all posts under #PronounceMe
Unfortunately, I have to shut it down due to recent changes in the YouTube monetisation policies.
Before starting this project I did some analysis and estimated some figures based on the publicly available information on the internet. That was in December 2018, month before I've written the first line of code. Google has updated documentation:
Essentially I ticked all checkboxes and that means even I grow the channel to fit minimal requirements to enable monetisation my application will be turned down.
How do I feel about this?
There is always risk when project is relying on the third party content marketplace since it's the only one how dictates the rules of the game. From the beginning I was thinking of alternative platforms and literally found nothing. There is only YouTube and nothing else.
I understand and appreciate Google decision to change the rules to encourage actual artist to create content, reduce amount of the spam on the platform. Although voices are generated automatically I firmly believe that those videos do bring value for the viewers since we are living in the era of high quality TTS engines
Recent statistics
As on Dec 22 2019 PronouceMe channel:
Channel subscriptions and views were growing lineally month over the month(calculated by socialblide):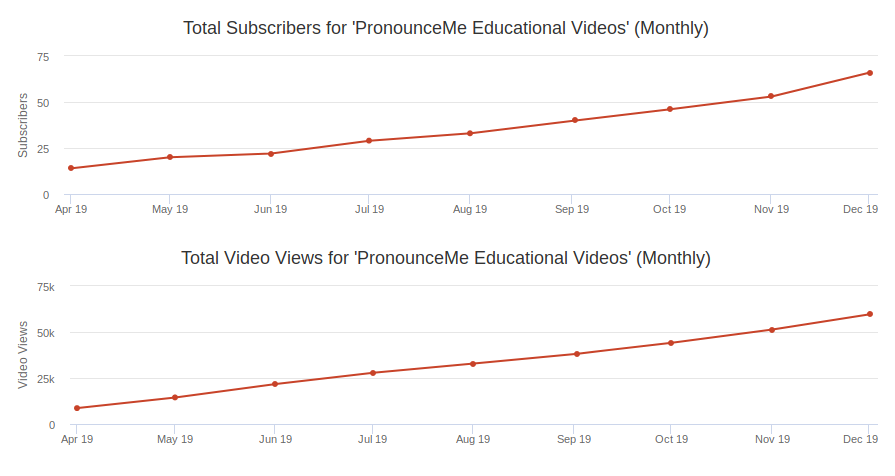 Interesting data
Figures (at the time of writing):
5,779 videos generated and published
70 subscribers gained
65k views
18.4k minutes(≈12 days) total watch time
Watch time

There is a clear downtrend in the watch time around June - probably due summer holidays
Geo distribution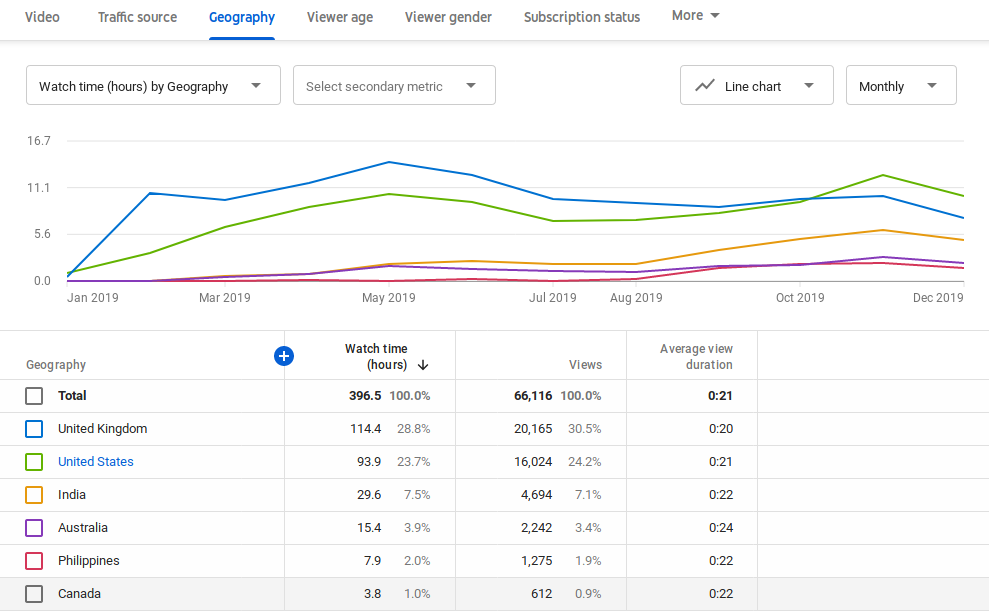 Not a surprise, most videos are mainly useful for the people who already have migrated to the English speaking countries - that was the biggest anticipated audience.
Devices distribution
Clearly we are living in the mobile dominated era
Traffic source
This is one of the most important metric to observe for the project growth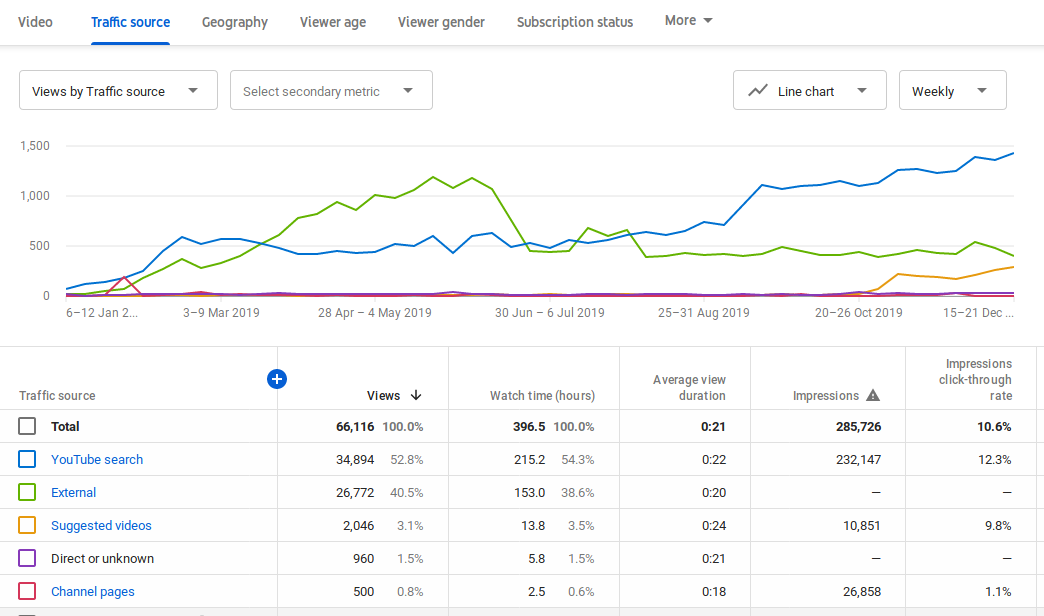 Massive amount of visitors are coming from the YouTube search. That means people know what they're looking for - specifically for the videos, not just a random search. Almost 90% of the traffic from the search engines is coming from the Google (video thumbnails) - the main source of traffic I expected when project started. I reckon having relevant picture on the background make PronounceMe pictures to stand out.
CTR on YouTube

It's difficult to compare to another projects since I don't have data. From my experience with web search results CTR of 10% is really good. I'd speculate it's because of the bright background picture.
Is that end of the project?
Well, yes. At least in this shape. I have number of ideas around this but don't think it would become passive income eventually. On another hand it's not feasible to keep servers which require significant processing power to render content.
That was an interesting experiment I have to shut down